Almost one year ago we began making our own laundry soap and I haven't looked back. It is simple to make and I have been very pleased with the results. I have not any issues with stain maintenance, and I have even been washing muddy play clothes with it. . .manure has yet to be tested.
I had come across some old pictures from the day we made it for the first time that Farmboy never got around to adding to the origional post, so I thought I would let you all in on the process he documented here on that
February day at Grandma's house
.
- Supplies: soap, borax, washing soda, and a bucket with lid = $12.51
- Time to complete: 20 to 30 min. (including cleanup)
- Difficulty: 1 easy to 5 hard = 1
F.Y.I. I have not had to purchase any more of these supplies since the first batch,
so the $12.51 has lasted us for the whole year!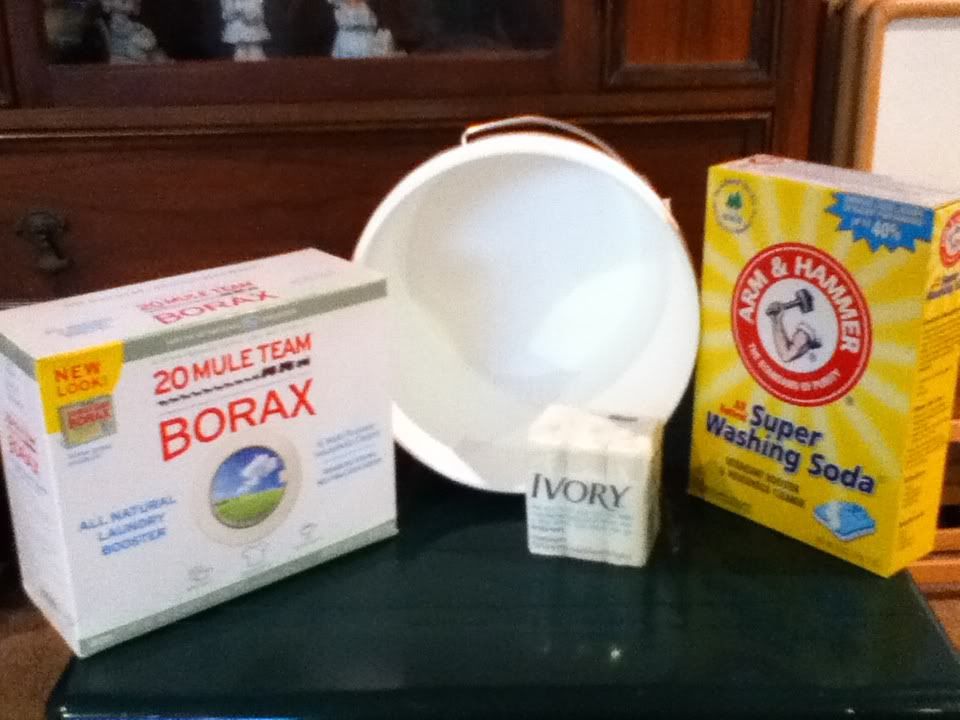 For the recipe you will need:
The first step was to grate the soap.
Add it to 6 cups of water and heat it until the soap melts.
It should look like this.
Next add the washing soda and borax and stir until disolved.
Pour 4 cups of hot water into your 2 gallon bucket, add the soap mixture and stir.
Then add 1 gallon and 6 cups of water.
If you do your math right you will end up with 2 gallons of laundry soap.
You will need to let it sit overnight while it thickens.
It will be kinda lumpy, but I pour it into an old detergent container and then
just shake before each use. You will need to use about 1/ 2 cup per load.
It does not get sudsy, so it is perfect for use in HE washers as well!
So the bottom line is that you get 2 gallons of soap that does what it is supposed to do for about $0.70.
I like them numbers!